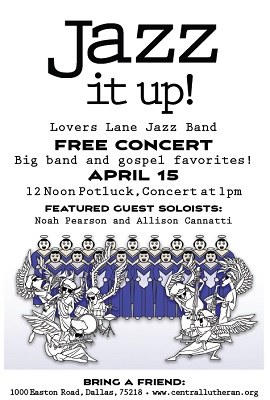 We'll start just before April!
Holy Week – All are invited to join us as we prepare ourselves for a glorious Easter Sunday!
7:00pm Maundy Thursday we share worship & communion with our extended Lutheran family from First United Lutheran and Bethany Lutheran. This year, we'll be at Bethany Lutheran for this service: 10101 Walnut Hill Ln, Dallas, 75238
7:30pm Good Friday, Tenebrae – service of darkness. Please join us back in our own sanctuary for this moving and special service. We'll leave the service in silence as we prepare for Easter morning.
Easter Sunday – 9:00 am, all-you-can-eat breakfast provided by our youth who will be attending the National Youth Gathering this summer in Houston. Come prepared for pancakes, waffles, eggs, bacon, sausage, fruit – the works!
10:00 am – stick around and enjoy the fun and excitement of the children gathering Easter eggs. Egg hunt open to all children 6th grade and younger (you do not have to be a church member to participate! ALL are welcome!)
10:30 am – Easter worship celebration
Other Upcoming events:
Thursday, April 5 – Kids' Klub is finally starting! Check out all the details here! Volunteers (& prayers!) are welcome. FREE & open to all kids kindergarten through high school for after school fun, snacks, homework help and STAAR testing prep!
Sunday, April 8 – Lunch & Kickball! All ages are invited & welcome to stay for lunch (provided!) and kickb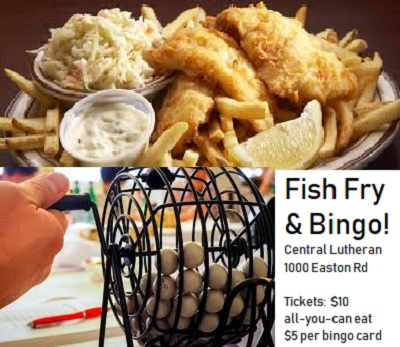 all! Come join the fun!
Saturday, April 14 – 6:00pm Fish Fry & Bingo night! Tickets are $10 for all-you-can eat fish, hushpuppies, fries, slaw & cobbler and will be available Sundays or contact Jennifer Nixon.  Bingo cards are $5 each or bring an item for a game prize and get a free card! And don't miss out on some fantastic raffle prizes, too! Tickets are available at the door, also, but pre-purchasing helps planning amounts of food needed. Proceeds will go toward expenses for the youth trip this summer. Thank you for your support!
Sunday, April 15 – Lovers Ln Jazz Band – Bring something to share & stay after worship for a yummy potluck lunch followed by a free 1:00 concert by the Lover's Lane Jazz Band. It's a toe-tapping good time!
Sunday, April 29 – our youth will lead us in worship during our annual youth-led service.